First Responder-TV Call Swift Shield a "Game Changer"
After seeing thousands of amazing tactical products from hundreds of tactical companies at Shot Show this year, by unanimously vote, First Responder-TV has named ATCS as Tactical Product of the Year at Shot Show 2020.
"The Swift Shield is a real game-changer for the Law Enforcement community," say Executive Producer Bill Rogers from First Responder-TV. "This will add a level of protection to police at one of the most vulnerable times during an incident – when they are leaving the protection of the squad car while responding to a hostile event," adds Rogers.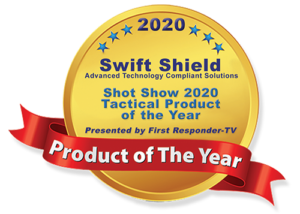 The Swift Shield is new-age armor plating that is made of specially processed ultra-high molecular weight polyethylene materials. Weighing in at only 5 to 6 pounds, the Swift Shield provides ease-of-use without hindering movement. It is easy for anyone to use and move quickly. Utilizing the most advanced materials combined with state-of-the art manufacturing processes helps to ensure that the Swift Shield is as light as possible.
"We are incredibly honored to receive the Tactical Product of the Year Award for our new Swift Shield, particularly from such a respected industry voice as First Responder-TV," said William Benz, CEO of ATCS (Advanced Technology Compliant Solutions). "The purpose of the Swift Shield is to save lives, and this award serves as a testament and validation not only of the Swift Shield's innovative use of advanced materials combined with its origami folding design, but also of the need for it in today's law enforcement environment."
The Swift Shield utilizes origami folding technology developed and patented at Brigham Young University that ATCS holds the exclusive worldwide licensing rights to.
Law enforcement agencies and departments interested in procuring Swift Shields for their officers and agents may contact ATCS's distribution partner AEGIX Global at www.aegixglobal.com. The Swift Shield will begin shipping in the spring of 2020.
"We congratulate the team of scientists from BYU and the designers and engineers at ATCS who developed this amazing tactical shield to protect those who Protect and Serve," states Rogers. "This will add an extra layer of protection to police on the street and to the entire law enforcement community."
Advanced Technology Compliant Solutions on First Responder-TV from Treasure Rock Productions on Vimeo.