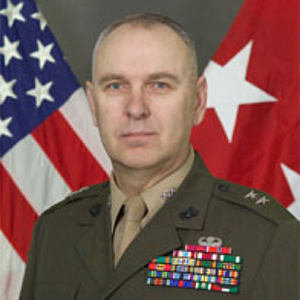 Timothy Larsen, Chief Strategy Officer & Board of Directors Member
Timothy R Larsen has held senior executive positions in both the US military and private sector with extensive experience in executive leadership, operations and strategic planning in the United States and abroad.
He served as a career officer in the US Marine Corps attaining the rank of Major General.  He commanded organizations at every level from platoon to Joint Task Force and served as a staff officer in a variety of operational and planning positions.  He has extensive experience in Joint, Combined and Multi-National Operations in the US, Far East and Middle East.
Upon leaving active service, he took a Senior Executive (SES) position with the USMC as Director, Chief Executive Officer, of Marine Corps Community Services (MCCS).  He had fiduciary responsibility for all MCCS activities worldwide generating revenues in excess of $1 Billion annually.  He provided executive oversight and operational control for more that 80 service level programs supporting Marines and their family members worldwide, with an appropriated funds budget of about $500 Million annually.  He left the USMC and federal service after more than 38 years.
Following federal service, he entered the private sector serving as the Vice President of Human Resources for a US Defense Contractor providing IT Services to multiple federal agencies in the US Intelligence community.  He later took a position as the Vice President of Operations and the lead for Federal Marketing with an Education Technology company providing services to departments and agencies of the federal government.  Most recently he was Executive Vice President with a public communication, government relations and federal marketing firm based in Washington, DC.
Currently, General Larsen is a member of the Military Advisory Committee for the Church of Jesus Christ of Latter Day Saints.  Previously, he served as a member of the Military Advisory Board for a US Congressman; a board member on the Marine Corps Community Services Board of Directors; a board member on the Department of the Navy, Fisher House Foundation Board of Directors: and member of the Department of Defense Education Activity (DoDEA), Dependents Education Council (DEC).
He earned a Bachelor of Arts (BA) degree in Political Science from Brigham Young University; his first Masters of Arts (MA) degree in International Relations from Salve Regina University, Newport Rhode Island; and a second Masters of Arts (MA) degree in National Security Strategic Studies from the Naval War College.  He attended the Japanese Language Course, Defense Language Institute at the Presidio in Monterey California.  He was a Foreign Exchange Officer and a Research Fellow at the Japanese National Institute for Defense Studies (NIDS) in Tokyo, Japan.  He speaks Korean and Japanese.
During his career he received numerous personal and service awards including; the Defense Superior Service Medal, Legion of Merit, Bronze Star Medal, Defense Meritorious Service Medal, Meritorious Service Medal, Joint Services Commendation Medal, Navy and Marine Corps Commendation Medal, Navy and Marine Corps Achievement Medal.  He was awarded the Order of the Rising Sun with Gold Rays by the Emperor of Japan for his distinguished contribution to the US/Japan Security Alliance.  From the Boys Scouts of America, he was awarded the Silver Beaver for his many years of volunteer service and his tenure as President of the Far East Council, BSA.